Music Reviews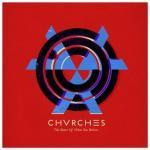 CHVRCHES The Bones of What You Believe
(Glassnote)

This is the first time I've delayed writing a review on purpose, and not because I'm a huge slacker. This is going to be painful, and I'm glad that at this point, everybody's made their mind up about this critically acclaimed album, and my opinion can crawl into a hole and go unnoticed. Welp, here goes...
The Bones of What You Believe is a huge, disappointing bummer.
I'm sorry. I'm so, so sorry. My hopes were definitely too high, but I don't think I'm being too punishing by blurting out that bit of honesty. And if you take a deep breath and stop seething, it really should come as a surprise to absolutely nobody that CHVRCHES' highly anticipated debut is so underwhelming. When they released the absolutely breathtaking The Mother We Share last year, it was so intoxicating that millions of fans emerged from seemingly nowhere within moments, hungry for single after single. The new songs leaked one by one, each nearly as astonishing as the first. The Recover EP was, I hoped, a nice taste to tide us over until the release of what would almost certainly be the record of the year, if not the decade.
If it seems too good to be true, it usually is. I've gone from the same excitement I felt when I first heard the Knife's Heartbeats to just trying to relive the initial high of The Mother We Share over and again. Worse, I think that CHVRCHES knew it when they chose the track listing for Bones. The Mother We Share was our sweet Mexican black-tar heroin, and there was no way anything could compare to the first experience. Leading the album with this track was a painful reminder; everything that follows pales in comparison. Being extremely generous, only two of the new tracks -- that is, songs we've never heard before, even on singles -- are worth it. Any song where Lauren Mayberry isn't on vocals seems like a waste of her saccharine clarity. You Caught the Light, an ironically dark blah-fest with a ballad beat, is saved only by its interesting electro-bell leitmotif. Science/Visions is just more space pop with a grating melody along a backdrop that's too reminiscent of Donna Summer's I Feel Love (which, frankly, I like better). Lungs is the only strong new track, unless you count Strong Hand, an enormously satisfying dancy number that, inexplicably, was relegated to the bonus bin. Everything else is filler between the singles we'd already heard.
CHVRCHES truly shines when they forego the slowies. This doesn't mean everything has to be upbeat and perky; after all, The Mother We Share is heart-tugging. A full-length album certainly needs variation, and I understand the band's impulse to mix it up with slower numbers. But in this case, the ethereal slowness ends up lackluster. They've already proven time and again, with each new single, that they are masters of emotionally-charged synth-pop, even when the tempo is evenly sped up. The fast/slow dichotomy just feels like an afterthought here, a rushed job to push out an LP by using the most obvious trick in the book. These singles are still some of the best music being put out today, but the filler songs are so forgettable that it's hard to see the forest through the trees.
In late June, I used
CHVRCHES
' Webster Hall show as an excuse to come up and see a friend in the city, knowing I'd miss their show in Philly later that week. I thought that a 3 a.m. train ride back home would be worth it, given my excitement for what I knew would be the only time I'd actually be able to afford to see these rising stars, who'd surely be selling out stadiums within months. But the show was painful, so loud that Lauren Mayberry couldn't hear herself and sang off key. I cringed, I felt terrible for her, and I knew as I stared at her through the fog machines that they had become famous too quickly to know how to handle it. I just hope this isn't the end of

CHVRCHES

, but just a choppy beginning.
11 October, 2013 - 04:46 — Gabbie Nirenburg