Music Reviews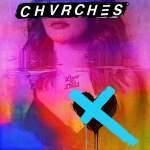 CHVRCHES Love Is Dead
(Virgin Records)

Chvrches' third album sees the Scottish trio changing tact. While the band had previously been insular, this time they wrote lyrics together for the first time, sought advice from Eurythmics' Dave Stewart and worked with super producer Greg Kurstin (Adele, Sia). The changes were supposedly to avoid the band becoming complacent - but it often seems like that's exactly what happened.
While there's nothing wrong with making an album that embraces commercial music, the results often sound derivative on Love is Dead. There are a couple of tracks with trademark huge hooks, but the lack of risk eventually becomes frustrating as they employ some bizarre stylistic choices to try to mask that they are playing by pop's playbook - most frustrating of which are the decisions to constantly alter Mayberry's vocals and the bizarre use of EDM-esque drops.
Maybe those effects are just misguided attempts to detract from some bland songwriting. The album centers around vague platitudes, and when they step away from those they get tediously simple. It's easy to see the singalongs they're imagining on the choruses of Get Out ("Can we get out, get out /Get, get, get out / Get, get, get out of here?") and Never Say Die ("Never, never, never, ever / Never, ever, ever say die"), but when execution is this lacking it just feels weak.
There are still enough glimpses of the crossover working to make it a worthwhile listen, though, and a couple of tracks that can stand alongside the biggest hits from their first two albums. Deliverance proves to be the album's strongest track, as a rare moment where the commercial nous of Kurstin comes together gloriously with Chvrches' signature gloom. Meanwhile, both Heaven/Hell and Graves provide some joyously defiant moments of relief amongst the darkness.
There's a change of pace when it comes to the tracks that the band self-produced. My Enemy, which features The National's Matt Berninger, is more patient than any other song on the album. The contrasting vocals work surprisingly well, with the track swirling around Berninger's baritone before suddenly springing into life around Mayberry's chorus.
All three tracks the band had complete control over turn away from their attempts to produce a hit, and instead come up with the more interesting moments on the album. On God's Plan, Martin Doherty's vocals almost disappear under a wave of prickly electronics, while Really Gone is a sparse, clean ballad.
In the band's biography that accompanied Love Is Dead, the band said that when they approached any collaborations they knew "that if you get led down the wrong path it can completely derail your career." There's some strange irony in that line, potentially proving to be more pointed than any lyric on the record itself.
It's difficult not to see how this album, in an attempt to appeal to a much wider audience, won't end up splitting their fanbase. It won't alienate anyone who wants a fine pop album, but it may disappoint those who had come to expect something more interesting than that from the trio. When they burst onto the scene it felt like Chvrches' popularity could have pushed mainstream pop into more interesting territory. On Love Is Dead, it seems that they're the ones who blinked first.
24 May, 2018 - 14:07 — Matthew Smith