Music Reviews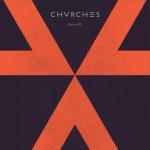 CHVRCHES Recover EP
(Glassnote / Goodbye)

A month ago, my friend sent me a link to a YouTube video of a band I'd never heard of. I'm reticent with new groups lately, having been left disenchanted by so much music over the last five years or so. I was shocked by how much I loved it. I couldn't stop playing it. "My neighbors hate me," I told her. "I'm going to start a cover band and call it KVETCHES," she responded. "Or maybe SVNAGOGVES." In short, we're obsessed. So is the rest of the world.
If you haven't heard of CHVRCHES, get excited. This Glaswegian outfit has left everyone salivating, and for good reason. The last time a new artist has gotten me so energized was M.I.A., pre-Arular, when Galang was making the YouTube rounds in 2005 (incidentally, that's what prompted my first foray into music writing, almost eight years ago -- just to contextualize my enthusiasm). CHVRCHES is best described as synth-pop, maybe electro-pop, but definitely and inexplicably not derivative of the 80s style they've magically transformed. They're as much The Knife as they are Depeche Mode as they are Purity Ring. The music is the aural equivalent of a flashing neon sign or a shimmering sequined gown. They sound like everything but are comparable to nothing. It's absolutely immersive.
This EP is almost excruciating, because the singles have been so much better. The title track is on par, and the remixes are interesting, but any song that isn't frontlined by Lauren Mayberry's ethereal vocals (like ZVVL - good, but not great) is a bit of a waste. That leaves one truly "new" track: Now Is Not the Time, which sadly isn't quite as strong. Fortunately, even the weaker tracks are still better than so much of what's being released right now, that it's easy to forgive. It's no wonder, though, just how restless the natives have become. Every new single is a tantalizing tease, working us up to the satisfying climax that we so hope the debut will be. It's a lot of pressure for this rising star of a synth band.
I'm cutting myself off because I want to save the good stuff for the full-length LP, slated to come out sometime in 2013. That, and you've probably already borne the onslaught of CHVRCHES fervor. This mini-review is for those of you who haven't. Stop what you're doing and get this EP, and keep going. Find the singles online. If you want to be absolutely blown away, save the Recover EP for later and start where the rest of us did, with CHVRCHES' singles, The Mother We Share and Lies. It's breathtaking.
28 March, 2013 - 04:12 — Gabbie Nirenburg