Music Reviews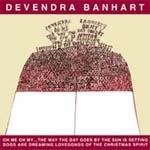 Devendra Banhart Oh Me Oh My...
(Young God)
Buy it from Insound

Or to give it's full title, Oh Me Oh My... The Way The Day Goes By The Sun Is Setting Dogs Are Dreaming Lovesongs Of The Christmas Spirit. There's been a lot of attention paid by the likes of Bang and NME (who, after awarding it a 9/10 review, recently proclaimed it "A cross between Jeff Buckley's falsetto and Jack White's intensity all seemingly put down on a tape recorder belonging to Nick Drake") towards this Twenty-Two year olds debut.
In his personal biography on Young God's site, Banhart states that he feels "Mississippi John Hurt, Mississippi Fred McDowell, Karen Dalton, Vashti Bunyan, and Fred Neil are the most important musicians there ever was", and talks of a lifetime spent moving between Texas, Caracas, San Francisco, Los Angeles, Paris and New York, where he apparently "lives in an old salsa club, it is a squat, a shot hole with a dead charm, as in many people I know for a fact died there... There is a room called the Helter Skelter room and its scary as shit. I live there, there are no windows, there is no air, but it's free".
So aside from a hectic upbringing that slightly reverberates with the feel of a B-grade creative writing course, some interesting influences and some selectively "helpful" comparative hype, what does Banhart offer to the listener? (reading his bio. has warped my writing process) Well, a rather good, fairly inventive album, as it happens. To address the NME name-checks first, there is a small hint of Jeff Buckley's falsetto (at its slightest and most Edith Piaf) in Banhart's, but his vocals seemed far closer to those on the (spurious looking) The Best of & The Rest of Mark Bolan compilation on my shelf. But whether by accident or design, it's a vehicle Banhart takes to different enough places to distinguish himself.
There is a resemblance to Jack White's mellower songwriting, such as on the beautiful, scarred Michigan State, but its often tempered by the kind of bizarre obscurity found on Syd Barrett's better solo work (see The Charles C. Leary or The Thumbs...). There are definite echoes of Drake, Pumpkin Seeds contains one of the nicest gentle guitar arrangements since Northern Sky, but with folk-based arrangements there are plenty of sources around (it could be both artists shared passion for Fred Neil, it reminded my dad of Ralph MacTell). Either way the Muppets gone doo-wop sample at the end and the song's exquisite lyrics (particularly the "There's a lot of love, but not the kind I need" couplet) are his own. The closing, The Spirit Is Near is the first Christmas song to make me think of Billie Holiday with a machine-gun.
The jumpy, crackling production lends the album an anti-folk quality a la Jeffrey Lewis' The Last Time I Did Acid I Went Insane, which generally suits the songs. With twenty-one tracks at just over fifty minutes and the aforementioned rough edges, Oh Me Oh My... inevitably contains imperfections. But Banhart's knack for a sly-humoured tune with moments of slight, inventive, excellence obscures them. Oh me oh my indeed.
10 May, 2003 - 23:00 — Tom Lee