Music Reviews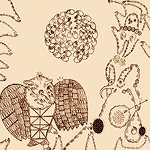 Devendra Banhart Rejoicing In The Hands
(Young God)
Buy it from Insound

It's rare these days to find a record worth straining to listen to, and rarer still to find one that has audible cicadas in the background. Banhart's second album was recorded in a Georgian mansion in the depths of the Deep South countryside, and the arcanely gothic undertones of the Delta blues cut deep swathes through this release. Variously compared to mavericks such as Beck or Nick Drake, in reality Banhart draws from both while sounding like neither. The guitar playing is genuinely superb, and Drake's mesmerising drones rear their heads regularly.
Banhart also appears to be creating himself a mystique: live performances see him taking the stage in a hooded red cowl with his face barely visible, lit only by candles. For just a man and his guitar, an incredibly hypnotic atmosphere is created, which filters through to the record: this is no easy-listening, undemanding singer-songwriter muzak, it cries out for an emotional reaction in the same way as Elliot Smith's music did. Fortunately, this skirts around the unrelenting self-confession of some of Smith's music, and concentrates on combining Banhart's affecting Southern drawl with some gorgeous melodies, and some more obtuse and abstract lyrics.
The quality of the songs is a highlight in itself, which is as it should be for an artist of this ilk. This second album is a work of art, slightly rough around the edges and a little makeshift, but tremendously beautiful all the same.
16 August, 2004 - 23:00 — Simon Briercliffe