Music Reviews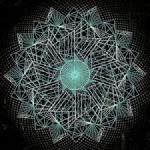 I Break Horses Chiaroscuro
(Bella Union)
Buy it from Insound

I Break Horses' second album, the easily mispronounced
Chiaroscuro
, is an exercise in contrasts between light and dark sounds. With a stronger focus on
electronica
and synthesizers,
María
Lindén
and
Fredrik
Balck
have made a record that can switch from foreboding to light-hearted, from depressing to soothing. Although many of these songs alternate between moods, the most effective numbers are those that manage to convey more than one musical color at the same time.
The combination is most noticeable on
Berceuse
, which is a musical composition in 6/8 time that resembles a lullaby. The muffled drumbeats almost sound like someone pounding their first against a door or wall, but the
synth
line is pearls and diamonds, sparkling in the rough.
You Burn
and
Ascension
fuse light and darkness to a lesser effect, as they have pulsing, low-key melodies that are transformed by
Lindén's
voice, but go on for too long without moving forward.
Denial also fails to make an impact because it separates the two moods, segmenting them rather than fusing them into a whole that is greater than the sum of its part. A warped opening synth sounds like someone threw the keyboard on its head, but it is soon dropped for an average melody that strips away the appealing weirdness.
While some of this album's highlights combine light and darkness,
Chiaroscuro
also succeeds when it dedicates a song to one particular mood.
Faith
grabs you with a racing beat that is ideal for a long highway drive and keeps your attention with a shuffling melody. Another favorite is the album's centerpiece,
Medicine Brush
. Written after a family tragedy,
Lindén
puts in a top performance here, from instrumentation to her vocal delivery. The
synth
is frantic, on-edge, tense to the point of breaking. Heavy-set piano chord plunk down, adding just enough to stop the song from flying off the tracks.
Lindén
pushes against her upper range, sounding beautifully haunted, calm and desperate at the same time. It's a fantastic performance.
Chiaroscuro is a strong effort by I Break Horses that doesn't manage to get firing on all cylinders, but does offer more than enough strong points to make it worth checking out. As part of this duo's evolution, it's a step in the right direction. Rather than going for black or white, this album is at its strongest when it settles on grey.
20 January, 2014 - 05:02 — Joe Marvilli