Music Reviews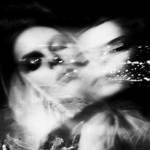 I Break Horses Warnings
(Bella Union)
Buy it from Insound

On Turn, the gushing, lovesick nine-minute ballad that opens I Break Horses' third LP, Warnings, Maria Lindén makes it immediately clear why it took her six years to complete the follow-up to 2014's Chiaroscuro. Lindén (alongside longtime collaborator Fredrik Balck) had previously hinted at making grand statements before—best demonstrated in tracks like Medicine Brush and Heart to Know—but never has she been able to lay bare her romantic side so openly without relying so much on texture to fill in those open spaces. It's a significant step-up for a duo that continues to face a great challenge, even at their most self-assured: how to add more personality to their sweeping soundscapes.
I Break Horses' stylistic choices are in no way representative of Warnings' quality as a whole, which sounds impeccable and incredibly lush from start to finish (assisted with the production of famed indie producer Chris Coady). Coady, who previously worked with Beach House on four albums, helps elevate the duo's intimate synth-driven sound to sky-high proportions. Songs like Silence and The Prophet are filled with starry, phaser effects and thumping percussion hits, where the timbre of Lindén's soft-spoken assists in balancing their busy arrangements. The driving, motorik rhythm of Neon Lights is one of the duo's more obvious attempts at bringing some variety to an album that is temperamental by design, though all that it suggests is that Lindén has gotten even better at recreating facsimiles of past dream-pop touchstones.
Unsurprisingly, Warnings excels when I Break Horses free themselves from the over-reliance of studio trickery. The warped synth lines of I'll Be the Death of You sound like a logical progression from the icy, electro-pop splendor of Chiaroscuro cuts like Ascension and Berceuse. And though Death Engine also traipses over Beach House's shimmering loops, it doesn't mean that it sounds just as compelling in its own right. Lindén had some false starts in trying to realize her true vision with Warnings, and it shows—the effort she went through to craft a sound this painstakingly meticulous requires time and patience. And though we know how far she and Balck can push themselves, we're still not quite sure who exactly they want to be.
11 May, 2020 - 06:39 — Juan Edgardo Rodriguez