Music Reviews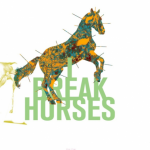 I Break Horses Hearts
(Bella Union)
Buy it from Insound

2011 has seen little in the way of shoegaze, but Swedish duo I Break Horses – Maria Lindén with help from Fredrik Balck – are here, twenty years on, emulating the dreamy FX-fuzz textures that made a generation of critics fall in love with the genre. But as with any shoegaze release since, well, Loveless, I can only go so far without mentioning My Bloody Valentine. You can't deny how derivative this record is, but I Break Horses certainly approximate their influences with gusto. The first few tracks in particular layer up walls of effects displaying their astonishingly gorgeous production; the title track in particular is a masterclass in the post-rock crescendo, and Winter Beats climaxes with a stunning cathartic burst. In these tracks the pair conjure an energy rarely achieved in their genre – at their finest, I Break Horses are powerful, doing anything but gazing at their shoes.
The album and track titles suggest something visceral and bodily: Pulse, Wired, Load Your Eyes. The songs on Hearts are propulsive, enveloping washes of sound, which you feel rather than contemplate. So it's bizarre that their name references Smog, with his minimal, intimate songwriting – I Break Horses is on the other end of the spectrum, synths and guitar effects all but drowning out the vocals, to the point that the duo's lyrics are unintelligible. Which is a shame because their backstory is fascinating: Linden and Balck are hypochondriacs who met on an online forum. This might explain the record's corporeal themes, but without the track titles, you'd never make the connection. So where you might expect poignancy from a track titled Cancer, you simply can't hear the lyrics well enough to engage with it. The urgency of the album's first third is soon lost, but I Break Horses have an innate prettiness that sustains the intrigue of Hearts, right until the effortlessly cool No Way Outro.
So it's slightly top-heavy; nothing else quite lives up to those amazing first three tracks. Still, at its finest, Hearts is a really promising record. There is a jaw-dropping moment on Wired, where instead of simply letting the song fade out, they pull some studio wizardry that lets the layers slide out from under Lindén's voice at the same time as it swells, like a magic trick – you realize how dense and intricate the textures are, how grandiose the duo can be when they defy expectations. So in spite of the complacency of the later tracks, there are enough stellar moments here to make it worth keeping an eye out for I Break Horses.
26 August, 2011 - 16:31 — Stephen Wragg