Music Reviews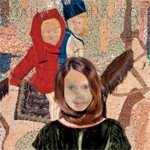 Juana Molina Son
(Domino)
Buy it from Insound

I am always wary of albums whose covers appear to have been painted by an infant or well-trained primate - often this is a sign of an artist, ahem, "maturing", or, "seeking new musical directions," or, worse still, spending more time with the family than in the studio or on stage. That Juana Molina's fourth studio outing, her third on Domino, is fronted by artwork that would befit some of Sinead O'Connor's more recent works, was a source of not inconsiderable concern for this reviewer.
The Juana Molina story is indeed a strange one. Raised in a musical family, Molina found fame in her native Argentina as an actress and comedian, before moving to the US to pursue her dream of a career in music. Her first album, Rara, is rarely heard outside Argentina, but after attracting the attentions of David Byrne, and signing to Domino, Molina has become a regular fixture touring and releasing in the UK, the Far East, and the US. Her distinctive sound, described by one critic as like a "warm analogue bubble bath" - at once acoustic, valvey, Moogy, soothing and surprising - finds echoes in recent Bjork, KT Tunstall, Cristina Donà , and Nina Nastasia. Beyond the "slightly left-field female singer-songwriter" genre, her technical approach - vocal sample loops, unexpected percussion, effects pedals that appear to have been made from wood, glue and old batteries - is also shared by another favourite or ours, Animal Collective. Like the Collective, Molina displays an almost childlike joy at having been allowed into a studio to play with all these marvellous toys.
Yet Son marks a slight departure for Molina. It is lead throughout by Juana's voice - at times in harmony with itself, at time singing lilting melodies in Argentine Spanish, yet at others performing baroque, computer enhanced feats of vocal acrobatics, something akin to high-pitched beatboxing. This sound, with guitars, distorted strings and muffled percussion, is consistent throughout, but absent are any crowd-pleasing, sing-along numbers, such as Sálvese quién pueda (Every man for himself), or El perro (The Dog) from her previous albums. In the short term this makes for a less accessible work, and it took this listener some four or five plays to really have a handle on the album. I'd be interested to hear what the experience is like for someone who doesn't understand Spanish. But the virtue of patience is rewarded. Opener río seco (dry river) is strangely menacing, while yo no (not I) is perhaps the best showcase of Juana's most curious vocal talents. Birdsong and cat noises add an unexpectedly compelling touch to la verdad (the truth) and un beso llega (a kiss arrives), respectively, while no seas antipática (don't be unkind) demonstrates that is not only Kate Bush who can turn domesticity into fine tunes. Throughout, the seemingly random, overlapping, hypnotic ritornellos of Molina's voice float over the listener, adrift in a lyrical fluidity, even on the curiously downbeat micael. Loose loops and sub-house rhythms turn final tracks Elena and hay que ver si voy (let's see if I go) into outstanding examples of the combination of the organic and the electronic that typifies Molina's work.
Looking back on Molina's work so far, and after what is, I think, my eighth listen to the album, the progression is clear: a steady movement further into vocal and electronic experimentation, the increasing presence of the dehumanised, almost animal/technical human voice, and a consistent commitment to the hypnotic qualities of music. This is an album sure to cement Juana Molina's admirable position of influence and acclaim. There is no excuse, however, for such a terrible front cover.
20 October, 2006 - 23:00 — Ben Bollig