Music Reviews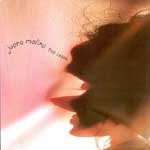 Juana Molina Tres Cosas
(Domino)
Buy it from Insound

Juana Molina is hard to put into English terms. Maybe if Elvis Costello's daughter had grown up in exile learning music from Fergal Sharkey and Billy Bragg, been a bit-part musician round London in her teenage years, taken to being a bit-part actress in TV comedies to finance guitar lessons, and then almost accidentally become a kind of young Latin American Tracy Ullman, only then to return to music and start recording the kind of aural balm you'd expect from Mira Calix or Múm, then you'd perhaps be getting there. As it is, and as you'll read elsewhere on this site, JM is uniquely Argentine, while producing beautiful, soothing melodies that cross borders like nomads.
Her first album, Rara was released after she rediscovered her musical career gigging in clubs and bars in LA. Segundo was released in 2000 in Argentina, but got a release in the UK only this year, spurred on by a tour of the states supporting David Byrne, a headline set at Barcelona's SONAR festival later broadcast by Radio 1's Breezeblock, and rave reviews from The New York Times.
Segundo saw Juana mixing acoustic guitars, analogue bleepery and lilting, breathy lyrics in a kind of modern day flip-side to Nico. The result was like having your nerve ends tickled with a feather. If there could be a complaint, it was that technical over-complication and even fussiness got in the way of Molina's strengths - captivating melodies, myrrh vocals and well-strummed guitar.
Tres Cosas does then what all good third albums should do - it takes the best bits from her earlier works, perfects the model, and then goes a little bit further. No es tan cierto sets the trend, soaking you gently in her bonaerense flotation tank. The longest track, Sálvese quién pueda flies by like swans over a lake that reaches to the sunlit horizon, while the title track proves that she can do upbeat, Warpy tunes, without getting lost in the technicalities of it. Yo sé que is Tarkovsy in a song. It's probably a credit to her keyboard foil, Alejandro Franov, that Tres cosas still exploits technical fancies without losing sight of the melodies, but it's also down to her vision as self-producer and mixer.
What else to say? Cúrame is quite possible the sexiest song I've heard this year, all long grass, honey bees and ankles on a summer's day. And as an encore, on Insensible, she things in rather charming French, and, very briefly, the world stopped.
At some stage in the future, the world will probably end. I'm reliably informed that a message will come over the airwaves to give us fair warning. If it does happen, turn off the lights, stick on this CD, and somehow, although I'm not sure how, things will probably be all right.
6 July, 2004 - 23:00 — Ben Bollig