Music Reviews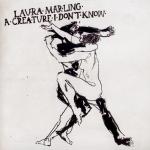 Laura Marling A Creature I Don't Know
(Virgin)

A Creature I Don't Know will prove a remarkable moment in the career of Laura Marling. And I say that with very serious conviction. The lusciously wisdom-beyond-years lustre of Alas I Cannot Swim was a wide net with which to create a fan base; and the distinctly more measured, assured and mature I Speak Because I Can in turn made that the first record seem positively infantile with its deep running themes of responsibility and adulthood. A Creature I Don't Know repeats some of the sounds and qualities of that second record, but it does so with equal ability, equal inspiration and equal success, whilst remaining devoid of replication itself: a set of songs very distinctly by Laura Marling, but very distinctly of itself.
So it deals with love, ire and loss, but intertwined is the extensive symbolism and anthropomorphism we have seen in her previous work: it's rife with references to folklore and tradition, invoking sin and fate. And so quickly she shows us the first of her protagonists. The Muse introduces 'the beast', a mindless and animalistic characterization of one side to her personal duality, one that will "call on you when I need to feast." It's a rambling concoction of a song, the piano drumming its urgency with a tumbling, careless complexity to wonderful effect. It's not until The Beast that we meet the angel to his devil, Sophia, a personification of the Greek word for wisdom. From here these two watch as the album is played out by its author like some very one sided, conflicted conversation, all humming acoustic guitars and sudden, tumultuous riffs. It makes for a striking thing, whether it's entirely beautiful is up for debate, but it works on a wondrous layered convolution that demands you marvel at it nonetheless. If not beautiful, however, it's positively filled with jewels: All My Rage, Night After Night and My Friends in particular deserve recognition. But it is the exceptional, intimate intro and churning, whirlwind chorus of Sophia that provides the album's highlight.
All this is very well, and very complimentary, but to return to the point with which I began: why is this so special for Ms Marling? Why is this not just another record on a now impressive winning streak? While it is no worse than what's gone before, it's certainly no better, so why is there a sense of the decisive about it? Well, simply, it is the record that takes her from a talented potential with a long road ahead to something of a national sweetheart for the indie collective; it's the album that finally steps out from the wings and points out she never was working in the same league as Kate Nash or Lily Allen; it's the one that reminds us that Joni Mitchell may be blonde and female but not necessarily an equivalent; and finally it's the album that makes her the comparative standpoint in her own right – suggesting subtly that she may one day be the talismanic songstress for her own generation. The omens are good, and right now, she's a modern day Muse for us all.
1 December, 2011 - 05:00 — Joe Iliff