Music Reviews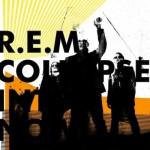 R.E.M. Collapse into Now
(Warner Bros. )

It must be odd being R.E.M. (along with being unbelievably amazing). In the current musical universe, there's dozens of bands who owe their very existence to the trio. Plus, they're unique in that there's no act as capable of rocking out as hard and being as alternatively artsy and abstract as them without simply ripping them off in the first place. So, that makes the release of their 15th album, Collapse into Now, all that more interesting as a means to prove where the giants stand now. As it turns out, the resulting effort is one that is distinctly R.E.M.: pure sonic goodness.
While 2008's Accelerate was all about the stripped down rock sound, the band have said in interviews that this LP is about being expansive. Serving as a moment to celebrate the momentous occasion that is record No. 15, Discoverer opens the album up like a mighty declaration of the band's intent. That moment of triumph and swagger returns again at the end of Blue, a fuzzy spoken word performance by frontman Michael Stipe where he sounds like a manic narrator weaving a tale of uncertainty and a lifetime of neurosis (everyone should love the line "4 a.m.; Halloween. Had enough to drink to make my own party") to the sounds of burned-out guitars and random screeches of noise before the faint call from Discoverer brings the lonely writer back from the brink and into the frightening yet hopeful realm of wide-open promise.
The album clearly bounces back and forth between those moments of emotional annihilation and utter hope and optimism. But more than that, with those tracks book-ending the effort, the record's most basic motif is clear: even as lords of rock, the men of R.E.M. still struggle daily with their own issues and the standards of the world, but welcome the battle with ever-glowing smiles.
As for the rest of the tracks on the album, they almost serve as randomly presented intervals in the career of a band who have seen way too much in nearly 30 years as a unit. Within this particular effort, the band seem to be at their most interesting at the lower, more folky end of the spectrum. Uberlin is a synthesis of the sound a lot of people associate with the band: strummy guitars, those rocky-yet-almost-angelic vocals of Stipe, and the kind of inspirational undertones courtesy of ambiance and the use of organ/keys. Far more impressive, though, is Oh My Heart. From the horns to folklorico guitar, Stipe takes the vibe found in Blue and adds a dark, black humor lounge singer vibe to it. It's one of the most depressing and sweeping tracks in the album, one that will break your heart with its message of a man alone in a world he no longer recognizes.
No R.E.M. record, however, would be complete without the group's unique worldview as presented in unintelligible pop songs. Mine Smell Like Honey has one of the most teeth-rotting-ly catchy choruses you'll find in the band's catalog, even without knowing exactly what has the odor of honey. As the second wave in the one-two punch of weirdly wonderful tracks, Alligator_Aviator_Autopilot_Antimatter is another pseudo stand-in for a lot of the band's sound, rattling off random lyrics with an emphasis on the sound and feel as opposed to meaning, to create a song of simple pop joy and hip-shaking awesomeness. One would think in a record so personal, tracks like this would stand out so blatantly as pure garbage. But these numbers in particular help to illustrate what we should all cull from this effort: there's nothing new about this record, but that doesn't mean that now, in 2011, with the plethora of music opportunities literally over-flowing from the Internet, that R.E.M. doesn't have a well-deserved place on your playlist.
8 March, 2011 - 10:20 — Chris Coplan