Music Reviews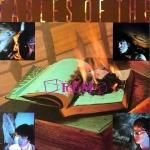 R.E.M. Fables of the Reconstruction [Deluxe Edition]
(Capitol/I.R.S.)

When making assumptions about 1985's place in music history, there's always the idea that the decade's middle half is remembered for obviously planting consciousness. Charity singles came and went, Frankie goes to Hollywood kept releasing rehashes of Relax because nobody was interested in listening to Welcome to Pleasuredome, and contrived new wave was all the craze. Beneath the glamorous exterior, it was also a noticeable transitional phase for many of today's most regarded artists: Little Creatures was the Talking Heads' most accessible album yet, Flip your Wig cleaned up Husker Du's buzz tone garage, and even The Smiths' Meat is Murder proved to be a muddled effort that never really shook its mid-tempo groove.
Twenty-five years later, the one main argument that's usually made about Fables of the Reconstruction is that, like the work of R.E.M's iconic counterparts, it merely hinted the promise of better things to come. This is just stating the obvious. The Athens foursome knew that they couldn't repeat a pattern when their heart was really somewhere else, even if that formula had proved to be successful. Fables was a do or die attempt for R.E.M to challenge themselves with their most revelatory tactic - instead of creating another cerebral set of Byrdsian inspired jangle, the emotional core of the band would lead the way to awaken a creative chapter they hadn't discovered yet.
Fables opener Feeling Gravity's Pull instantly threw a curve, featuring dark and brooding overtones about questioning one's unconsciousness, referencing Man Ray among a backdrop of string arrangements. It was R.E.M.'s first foray into incorporating storytelling elements more perceptively, having already sized up with tales such as West of the Fields, Harborcoat, and Little America. Michael Stipe had begun to expose his political activism, referencing themes such as exploitation, colonialism, working class train conductors and carpenters, and Baptist reverends. He was retracing to his Georgia background, flipping the pages that had filled his memory bank. The common folk that surround Fables were idealized eccentrics, timeless characters that had left their mark in diminutive, but memorable ways.
Enlisting American producer Joe Boyd wasn't just an adequate choice, but a logical step in the right direction. In the past, Boyd had already fought thick and thin for the revelation of unsound British folklore, boasting a sensible tact for artists that had an instinctive, pastoral groundwork. Although extensive touring and the move to London stifled the band's energy initially, Boyd's production sounds supple and finesse. Even if the orchestral arrangements and hauntingly atmospheric design build up its subject matter, the flexibility of the songs themselves bring to life an impending sense of doom. It is as if the meager alteration of a chord could compromise the entire production.
Fables transcends the jangling, ringing guitars and abrasive bass lines. Instead of just delivering a clean, textural amplification off his Rickenbacker/Vox amplifier combo, Peter Buck was beginning to experiment with delay pedals and extending his simplified distortions whilst highlighting some swift, crunchy chords; the alt-rock motif he fully established in the early to mid 90's. The straightforward approach of Good Advices and Green Grow the Rushes paved the path for Buck to lay bare his gorgeously executed 12 string arpeggios. The Mike Mills/Bill Berry rhythm section was mostly restrained to fit the overall, pensive quality of the songs, although Driver 8 and Life and How to Live it were the exception, showing off some melodically exhilarant behavior that went beyond the basic kick drum, root note bass work. Stipe was also coming to his own, starting to abandon his mumblings with an overall soft-toned clarity.
Fables' original recording had a soiled, low pitch sound quality that was usually present in early CD recordings; it was probably the R.E.M. album most in need of a reissue. Instead of addressing these issues, the remastered versions enhance the overall instrumention, with nary a pop or an indistinct scratch. Other times, it disrupts with low-to-loud dynamics that only mar its idyllic subtlety. The Athens demos are the best representation of how essential Boyd came to be, as they feature the occasional tomfoolery, a constant acceleration of tempos that brought back memories of earlier albums, and some god-awful vocal tonality from Stipe, who sometime seems unaware of how to hit the mark. Even so, this is a fascinating account that breaks the fourth wall, giving R.E.M. fans a candid portrayal of work that was still in progress.
In retrospect, Fables sounds very much like a product of its own time, planted in a furrow so it could cultivate with patience. It's the least immediate representation of R.E.M.'s canon, displaying an unobtrusive modesty that only resonates when submerged into that specific mindset. And that's precisely why it has become so timeless. Fables absorbs from the moment it lets go, proving to be the first unpredictable R.E.M. experience into thought provoking meditations such as isolation, loss, and the essence of one's importance in life. The airy ruminations on Southern life make you feel as if you're actually situated in a Georgian colonial home, feeling the bright sun rays radiating throughout the never ending view of an agricultural countryside. It achieves the rare feat of replicating time and space, especially when that place you like to call home seems like a distant memory.
Fables of the Reconstruction: 10/10

Reissue: 7/10
29 July, 2010 - 11:33 — Juan Edgardo Rodriguez