Music Reviews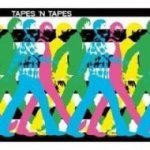 Tapes 'n Tapes Walk It Off
(XL)
Buy it from Insound

With their irreverent debut album, The Loon, Minnesotans Tapes 'n Tapes reminded us kids under thirty what was great about bands like the Pixies and Pavement. They were anti-establishment in a tongue-in-cheek way and refreshingly self-deprecating. Above all, their music was hook-laden and melodic. When The Loon was released in 2006, it seemed to me to be very much in that vein.
Almost two years later, Tapes 'n Tapes give us their sophomore effort, Walk It Off. Despite their enrollment of producer Dave Fridmann (I only say this because he single-handedly ruined another up-and-coming band's sophomore album), I was excited about this record. Having already heard the band road test a handful of these new songs last year at Lollapalooza, this felt like one if those can't miss albums.
Well, they missed. Unfortunately, they didn't miss by biting off more than they could chew; it's more a sense of complacency you get form listening to Walk It Off. I must note that Tapes 'n Tapes is a band that didn't need to take the kinds of risks that perhaps less talented bands feel they must take out of fear of repeating themselves. The culprit here is easy to point out: they didn't bring the hooks. Where The Loon gave us economically genius riffs and bass lines (listen to 10 Gallon Ascots or The Iliad), Walk It Off is, by comparison, rather boring. Tracks like Time of Songs and Lines are decent but only manage to stand out among the paltry dozen. Anvil is a nice ballad, but ask yourself: Is it really better than Loon's nimble Omaha?
Strangely, high energy songs like Blunt and Hang Them All actually worked on their live set which makes me wonder if Fridmann's production played a deleterious role here -- but I'd be blaming the maitre d' and not chef for the crappy meal. It's been a mediocre year in music (so far) and what a better way to mark its start than with a smart, talented band falling flat on its face.
28 April, 2008 - 20:02 — Alejandro Martinez