Music Reviews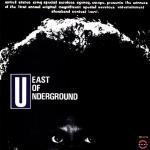 Various Artists East of Underground: Hell Below
(Now Again)

The critic is helpless before a collection like this. In the waning years of the Vietnam War, several US Army servicemen stationed in West Germany performed and recorded a litany of material culled from mainly soul, funk and pop hits of the day. Not much is known about these bands, which include East of Underground, SOAP, The Black Seeds and Sound Trek, and it's pretty clear that because of the circumstances, ambitions were kept in check and the resulting recorded output can be seen as more a labor of love than a major artistic statement. So only the most cynical among us would sit here and poke holes. What is actually surprising is the relative quality of most of the performances, which mainly feature talented amateur musicians putting a lot of heart into songs they clearly love.
One thing that helps is the bands' generally good taste. Featured are classic soul epics like I Want To Take You Higher, Backstabbers and Ain't No Sunshine, which gets a tasty reworking by the Black Seeds to up the laid-back, groovy factor. Most of the covers are fairly faithful to the originals which doesn't necessarily show a lack of imagination since none of these bands were trying to reinvent the wheel in the first place. SOAP ends up being the outlier here, covering a series of mildly cheesy pop hits, from You've Got A Friend to Uncle Albert, which turns out to be slightly over their heads given it's complicated arrangement, instrumentation and, most difficult of all, English accents. They fare better with Never My Love, handling the harmonies with reasonable skill. The real highlights come from East of Underground who jive their way through Curtis Mayfield's If There's a Hell Below, We're All Going to Go like it was second nature. They also give a surprisingly valid rendering of Walk on By, a Bacharach/David song made popular by Dionne Warwick. Both the Black Seeds and Sound Trek take a stab at Backstabbers and both pull it off fairly well. If I had to choose I'd probably go with the Seeds' energetic version.
What this essentially amounts to is a historical document that also happens to be a pretty good listen if expectations are not set exceedingly high. The songs themselves are guaranteed to please and most of the performances are up to the material and even the few missteps can be appreciated for their eager charm.
20 January, 2012 - 20:46 — Alan Shulman