Music Reviews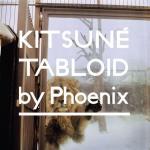 Various Artists Kitsuné Tabloid by Phoenix
(Kitsuné)
Buy it from Insound

Why do we have DJ-Kicks, celebrity playlists, LateNightTales compilations and now France's nascent Kitsuné Tabloid? Well, it's no secret everyone likes a pulpit from which to rave about their tastes. It's what sells $9.90 iTunes compilations curated by everyone from Röyksopp to Kelly Clarkson by way of Yo Yo Ma. So the Kitsuné Tabloid series isn't exactly breaking new ground, but that doesn't mean this isn't a convincing album.
Phoenix themselves said of the album, "These are little treasures that have had this huge impact and amazed us," so it comes as no small shock that this album isn't a crate-digging compilation of the noisiest underground 80s art rock bands. After all, Phoenix's hip French aesthetic would lend itself well to such a playlist, and the last Kitsuné curators, German dance-punk duo Digitalism, certainly scoured their vinyl collection for ultra-hip bedroom electronica. Instead, nearly all of Phoenix's featured artists had their heyday in the '60s or early '70s: it's a compilation flavored by classic rock. That makes it a very accessible record, and is no doubt magnified by the painstaking care the curators have taken in sequencing it.
The album takes off with a (mercifully instrumental) KISS opener, and then proceeds to Dirty Projectors' Rise Above—a song you don't need to do much crate-digging for. It's an opening feels a bit over-considered, if not out of place—the first indication of the meticulous forethought that's gone into the flow of the album. After that, the album takes off with a string of ballads, from artists as diverse as psychedelic/noise pioneers The Red Krayola, '50s soul group The Impressions and Chris Bell, vocalist from '70s power-pop outfit Big Star. The first third peaks at Elvis Costello & The Attractions' crooning, hugely emotional power ballad, Shipbuilding, featuring Chet Baker's last recorded appearance. It's a thematic first half that uses a similar song structure to play on the contrast between the different artists, and I'd never realized how close Dirty Projectors' David Longstreth's voice was to that of Roxy Music's Bryan Ferry.
There's a very marked transition between the first third to the chaotic middle section—we go from Elvis Costello to R&B 'Jesus' D'Angelo to Krautrockers Tangerine Dream. D'Angelo's Send It On is a forgettable six minutes compared with the tracks that sandwich it, though you can't fault Phoenix for the planning that's gone into the transition: R&B cleverly incorporates elements of both the electronica of Tangerine Dream and Costello's balladeering.
From there, the middle is all over the place, and admittedly more of what you'd expect from a French indie rock band's collection: shades of '90s alt rock, Brazilian singer-songwriters, and Iggy Pop instrumentals. Lô Borges, remarkably, flows seamlessly into an Iggy Pop and James Williamson electronic track—another one of the album's surprises. A Dennis Wilson B-side brings the last third of the album back to the oldies vibe, followed by an Irma Thomas soul cut that is right out of your slippers-and-robe-wearing grandfather's CD stacks. Richie Valens' In a Turkish Town echoes melodic snippets from the KISS opener, another similarity that you can't help but think Phoenix planned. The album ends with Dusty Springfield's cover of I Think It's Gonna Rain Today and Lou Reed's wandering, sparse, yet always glorious Street Hassle.
How do you judge a mixtape? Of course, there's no real subjectivity in criticism, despite critics' propensity for assigning numerical values to pieces of art, but when picking flaws in a compilation, the ultimate value always comes down to two things: the quality of the songs themselves, and their sequencing. At 70 minutes, the album is indeed pushing mixtape territory a bit, and the album drags in the middle towards the end of a long string of ballads. Phoenix has a penchant for long, meandering jams that defy the chorus form, a description that characterizes every song featured. There's also a clear trend towards wind and brass, as evidenced by the good two-thirds of the tracks with jazzy solos. Above all, though, it's a record in homage of pioneers—whether of glam rock, noise rock, psychedelic rock, art rock, or Krautrock, though you certainly wouldn't associate avant-pop groups like The Red Krayola with Phoenix's latest pop conquest.
It's great to get a look at Phoenix's avowed influences and inspirations, but this album is by no means for fans alone. It's a well-crafted mixtape, an excellent introduction to pioneering bands (that don't all wear flannel). Maybe artists like Phoenix like to throw up some surprising, even contradictory 'influences'; maybe we simply misinterpret them. Whether out of love or for obscurity, Phoenix has crafted an engaging, thoughtful compilation.
12 June, 2009 - 10:09 — Michael Skinnider