Music Reviews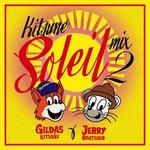 Various Artists Kitsuné Soleil Mix 2 (mixed by Gildas Kitsuné and Jerry Bouthier)
(Kitsuné)

You'd be hard pressed to find a record label better suited to providing a soundtrack for the summer than France's fashion-cum-record label Kitsuné. Formed from over ten years of promoting some of the finest electronic artists the underground scene has to offer, Kitsuné's distinctive brand of electro-pop is so glossy and energetic that their releases frequently bring to mind the youthful ideals of summer. So who better to release a compilation series called Soleil?
Soleil Mix 2, mixed by Gildas Kitsuné and Jerry Bouthier, follows on from the release of the first Soleil Mix last summer. The compilation takes the form of a continual mix, lasting a little over an hour. There are twenty tracks in total, which are fired at the listener thick and fast - some songs even have the melodies overlapping one another. The compilation acts as a showcase of the extensive range of artists releasing music on the label, from established artists Hot Chip, Yelle and Alan Braxe to upcomers Roosevelt, Saint Michel and Charli XCX. Highlights include Mogadisco by Jerry Bouthier and Andrew Gorgerino (aka JBAG), a slice of Balearic house with a riff played on steel drums, and the aforementioned Roosevelt's contribution, a chilled indie-pop song that's also entitled Soleil.
Whilst the relentless pace of the mix maintains the momentum of the compilation, the mixing is also the compilation's biggest downfall. The tracks on this compilation are not nine-minute cuts of progressive deep house, they are (mostly) pop songs, often just two or three minutes long. These tracks don't have lengthy intros and outros. They were not created to be mixed with one another. As a result, the mix from one track to the next is often forced, at worst painful (the mix from The Swiss' Elouisa to Saint Michel's Katherine being perhaps the worst offender due to the keys of the two songs being entirely incompatible).
If you think that awkward mixing could prove an irritating distraction (and I wouldn't blame you if you did), then rather than listen to Soleil Mix 2, you could do a lot worse than to check out Kitsuné's flagship (and unmixed) compilation series, the Maison Compilation. However, if you can get past the occasional eyebrow-lifting transition between tracks, this compilation has a lot to offer – most excitingly, music by some very promising new artists. And even where some of the tracks featured might already be familiar (Is Tropical's Dancing Anymore or Hot Chip's How Do You Do, for example), the compilation uses remixes that probably won't be as familiar. What's more, most of the remixes successfully tread the difficult line of being sufficiently different to the original tracks to offer an interesting new perspective without losing focus on the qualities that made the originals.
17 July, 2013 - 06:32 — Craig Stevens