Music Reviews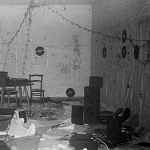 Various Artists Floored Memory... Fading Location
(FatCat / 130701)

UK label Fat Cat has always had an almost uncanny ability for spotting dynamic and innovative young artists: they released breakthrough albums from Sigur Rós, Animal Collective, and, in more recent years, No Age, Frightened Rabbit and The Twilight Sad. Their 130701 imprint has released some of the most important records of the last decade and single-handedly defined the post-classical genre (which blends elements of classical music with electronica and post-rock). Compilation Floored Memory... Fading Location features a sampler of thirteen tracks from 130701's four artists: Sylvain Chauveau, Hauschka, Max Richter and Set Fire to Flames.
French composer Sylvain Chauveau's slow, sparse compositions strive for minimalism: you can hear his obsession with sound itself as beauty on tracks like Il Fait Nuit Noire A Berlin, where he experiments with silence, letting notes die until they are almost gone. It is a powerful effect that makes any listener go very quiet and very still. Sometimes, though, as on album closer La Vie Lointaine, Chauveau's pieces drag. They are sparse, yes, but without having the crucial quality of minimalism: that nothing is wasted. Il Fait Nuit Noire... captures the minimalist ethos perfectly: every note is in the only possible place that it can ever be. La Vie Lointaine, by contrast, feels organic: the fatal flaw of any minimalist work.
Max Richter's tracks are some of the album's highlights: January Timelapse 2, an outtake from last year's overlooked 24 Postcards in Full Color, is a standout track. Fleeting and thin, a string duo builds overtop a background of tape hiss and Morse-code electronics, then dies away. It is Richter's experimentation with electronica that made 24 Postcards so exceptional, so it is peculiar that the three other tracks should feature few electronic undertones. There is a coarse distortion that scatters the tone of some of the piano notes on Cradle Song for A (Interstate B3), but Autumn Music 2 and On the Nature of Daylight are entirely acoustic. The selections highlight Richter's ability to craft long, lingering phrases of almost obscene beauty, but it leaves out the murmuring, crackling electronics that gave 24 Postcards highlights like Cascade NW by W an even greater depth.
Set Fire to Flames is somewhat of an anomaly on this record: a side project of Godspeed You Black Emperor!, they straddle the edge between post-rock and post-classical. The guitars and cymbals on Steal Compass/Drive North/Disappear... are brash and loud, and if it weren't for the eeriness and abandonment, the instrumentation that teeter dangerously close to conventional rock would be unmistakably out of place on the compilation.
Hauschka, alias Volker Bertelmann, is a German pianist who composes for the prepared piano: a curious beast that brings to mind composers like John Cage. Even in his earlier work (La Dilettante, from Room to Expand), Hauschka always had more humor than his post-classical contemporaries: rather than the ascetic intellectualism of Cage or Henry Cowell, to Hauschka the prepared piano is childish in the way it undermines the perfectly controlled tone, tune and timbre of each mechanically struck note. Blue Bicycle, one of the standout tracks from last year's childish Ferndorf, which features a string duo, is positively nostalgic: a far cry from Chauveau's self-serious experiments with silence. Waiting for the Bus, an outtake from the same album, is a playful piece that embodies Hauschka's approach to music: whimsical and upbeat.
Fundamentally, despite the highs and lows, the album's flaw isn't weakness of material. The four young artists whose material is culled in this compilation are all at the forefront of a dramatically new genre that blurs the borders between classical and popular music; their work will be at the spearhead of musical development through the coming decades. This record is all about borders: the borders between classical and post-rock and electronica, but far more importantly the borders between the artists themselves, who have such different artistic concepts underlying their pieces that, meshed together chronologically, the record feels very forced. Which isn't to say the record is bad, per se: indeed it couldn't possibly be given the artists featured on it. it's just a shame, given the talent spotlighted on this compilation, that the glaringly obvious transitions from Richter to Hauschka to Chauveau yell at you from across the room. There simply isn't enough time to immerse yourself in the moods of each artist. Any given album by one of these four artists would be a more productive use of time and money.
20 April, 2009 - 21:22 — Michael Skinnider