Music Reviews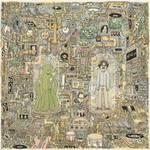 Weezer OK Human
(Crush Music)

You will never, ever know what you're getting with a new Weezer album. It's a cliché at this point but it bears repeating, as the recent output of the famed 90s power pop band has fluctuated quickly from excellent (Everything Will Be Alright In The End, The White Album) to groan-worthy (Pacific Daydream, Raditude). When lead singer Rivers Cuomo announced weeks into 2021 that Weezer would release a baroque-pop album backed by an orchestra, any number of reactions from tentative curiosity to disgust could be warranted. In many ways, their latest album feels similarly to recent Weezer projects in terms of Cuomo's lazy songwriting, but the layered arrangements help turn OK Human into a surprisingly listenable endeavor.
Weezer has spent plenty of their career dabbling in current trends, from a Lil Wayne feature on Can't Stop Partying to the lame funk-pop of Can't Stop the Hustle, but occasionally they get the sound just right. With OK Human, they zero in on a specific brand of orchestral indie pop and stick with it to solid results. Here Comes the Rain takes a traditional adult contemporary groove and pairs it with a chorus that only a musical theater student could love, while Screens feels like a classic Weezer power-pop tune where Brian Bell's anchoring guitar grooves are swapped for honking horns. On Aloo Gobi, the strings elevate a nonsensical hook into a sticky and downright anthemic moment. It's an almost undeserved moment, just because of how much heavy lifting these cellos are doing.
It's not like Cuomo is getting much wiser, though. While he seems to understand that he can't fixate on high school and nostalgia in his lyrics anymore, OK Human is chock full of head-smackingly obvious reflections and ramblings. It's most egregious on Bird With a Broken Wing, where he muses upon being washed up, singing "Now I'm just a bird with a broken wing but I still have a beautiful song to sing." On Screens, he agonizes over his family spending too much time on technology even if never comes to a point with this story—just listing off different scenarios with people looking at their cell phones. You can only take so much of Rivers singing about how "the real world is dying [because] everyone is moving into the cloud." Weezer's maddeningly inane lyrics sometimes work, but they aren't doing much to move the needle here. At least the album sounds nice, as that's more than you could say for plenty of previous albums from Cuomo and the gang. We might as well enjoy it.
2 February, 2021 - 16:18 — Ethan Beck