Music Reviews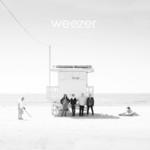 Weezer Weezer (White Album)
(Atlantic / Crush)

For better or worse, the perpetually young Rivers Cuomo usually prevails when he's able to channel his fragile sensitivity into song form. It's been fascinating to see how he's been able to mature into his forties while trying to beat the clock of the generations that pass, something that has made the regular Weezer fan either cringe or jump for joy. It's been frustrating, and oftentimes infuriating, to see him go through all this shuffling of personalities, as the past decade has seen him turn from pro-meme convert and skate boy idealist to serviceable nostalgist. Cuomo has always been on a self-professed search for musical perfection, and for the past twenty five years he's used Weezer as a vehicle to maintain an artful symmetry that lacks a definite focal point. He deeply cares about Weezer, so much so that he plans to keep the project alive until he retires when he's 60.
Weezer's last effort, Everything Will Be Alright in the End, was the first time in many years that the foursome were able to write an album that attracted a positive critical consensus. Up to this point, Cuomo had gone through innumerable reappraisals, and holding on to those expectations can ultimately hurt a career: instead of answering to himself, Cuomo has been constantly finding ways to contrive a version of themselves that can ultimately please everyone. Ultimately, the longevity they uphold will always sway like a pendulum to and fro; there's no definitive version of Weezer, only the one its audiences have pre meditatively chosen. This malediction doesn't only relate to Weezer but to power pop bands in general, as they are usually expected to change their tune or suffer unending ridicule, unless they try to aspire to an elusive ideal of originality.
Admittedly, Weezer should be given credit for failing time and time again in their search for career reinvention. And boy have they spectacularly failed - Make Believe still sounds confident in its blatant and uncaring mediocrity, while the flagrantly childish Raditude continues to elude me (perhaps because it only passed a market test taken by those opinionated pre-teens you see in those kid react videos). Cuomo is so self-aware about the public reception of their records that he already knows what the critics will think of it even before it's released, stating in a recent interview with ABC News that he thinks that White Album will get positive reviews, but not as positive as Everything. If anything, he's acutely aware about the kinds of songwriting tropes critics tend to fawn over, and he doesn't mind following those tropes if he feels they're better suited for the songs themselves.
Still, that prescient feeling of hope and anticipation really affects him in ways we're not completely aware of, but no one knows this better than Cuomo himself, a natural recluse who still demands for attention in the most unorthodox ways (his Instagram account is proof alone). In writing White Album, Cuomo stresses how he felt he hadn't made a full-blown beach album, even though many would be quick to defend that Blue Album is the quintessential nineties surf rock album. But never has there been a theme attached to it, and in White Album, Weezer are dutifully following a similar pop template akin to The Beach Boys' pre-psychedelia streak. The boys are in peak form in (Girl We Got A) Good Thing, a sauntering piano-led number that has this bubbling, dumb-is-more-fun David Lee Roth attitude about it that could possibly cause one to shed a single, happy tear in its rousing finish. The colorfully romantic Wind in Our Sail is also typically gleeful, detailing a cute meet alongside one of the band's most memorable choruses since Pork and Beans.
We're so attached to Cuomo's embarrassing diaristic accounts that it's sometimes hard to swallow a Weezer album that's entirely made of catchy, unadulterated hits, and in White Album, Cuomo is simply uninterested in hearing about our still-unextinguished teenage traumas. But behind the jolly exterior there's still some amusing, sad quips to be found: the cute meet eventually turns sour in L.A. Girlz, which uses that classic, Suzanne-like stomp as he throws out references to literary poets like Dante and Lewis Caroll (and in the chorus, no less: "L.A. Girls / please act your age/ you treat me like I have a plague / It's the Gyre and Gimble in the wabe") just to prove how devoted he is to this girl even if she's catting him off. The Pinkerton-recalling Summer Elaine and Drunk Dori also has some laughably head-scratching verses ("Sweet piano melodies play/feel crushing Sauvignon grapes") to try to explain what amounts to a lonely summer filled with woeful nostalgia. Also, listen carefully and you can hear a surprising Moog-driven melody for your delight.
As it is with any Weezer record, there's always a few clunkers that can almost spoil the entire album's sparkling appeal. Though California Kids kicks off the album's conceptual framework with a peppy, effervescent drive, it also has an overly simplistic punk-pop design that it wouldn't make a difference if it were Rooney covering Weezer. It does get the album's mood right from the get-go, though, even if the album quickly takes some awkward turns that are expected at this point in Weezer's career: the much scrutinized Thank God for Girls is the much-publicized "Tinder" song, where Cuomo got into some innocent left-right swipe mingling so he get a clearer understanding into the psychology of dating in our current age; nevertheless, the song's slick, Broken Bells-ish sway and hackneyed, tough-as-nails chorus are unfortunately the foundation of a song that actually gives some weird insight into Cuomo's wordy narrative.
All in all, this is not enough to dampen White Album's enchanting spirit, as it instantly becomes Weezer's most immediately enjoyable work yet. Cuomo also described how this was an album of compromises, where he's trying to appease to a certain Weezer sound that's as elemental as it is essential. And there's some truth to that, seeing as it avoids any drastic musical directions in favor of tight, consummate rock songs. Cuomo is still intent on writing a more tenuous batch of songs in the near future, which he's tentatively called "Black Album", though some of the tangled lyrical content in this one really does prove he's hardly taking his feelings for granted. Until then, it's hard to contest Weezer's wistful yearning for the city that practically shaped their sound. [Believe the Hype]
1 April, 2016 - 04:54 — Juan Edgardo Rodriguez