Music Reviews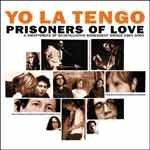 Yo La Tengo Prisoners of Love: A Smattering of Scintillating Senescent Songs: 1985-2003
(Matador)
Buy it from Insound

Thank the lord! Some bands have just done too much for someone new to them to come in cold. How could you possibly come to, say, Sonic Youth, without anyone to recommend a starting point? After over 20 years in the business the music of Yo La Tengo is a daunting new habit to take up. So thank you Matador for putting out a retrospective of selected highlights from an overwhelmingly under-recognised career.
The Hoboken trio is one of those critics-favourites that never quite got the major recognition. Maybe that's because they have always been happy to plough a singular furrow of folk, noise, and art-rock that prevented anyone ever pinning them down. But while their mercurial nature may have prevented them from ever getting more than critical acclaim, this eclecticism has kept them fresh and accessible over two industrious decades. Whenever in their career it has looked like they might head down some unlistenable rambling pot-banging cul-de-sac of self-indulgence, they've released an album peppered with pastoral folk. And just when you thought they might be getting a little twee, they've thrown in epic seven-minute soundscapes such as The Story Of Jazz. That's Yo La Tengo, and it's all here on Prisoners of Love.
Husband Ira on guitars and wife Georgia on drums form the core of Yo La Tengo. In their lengthy career, more than a few members have passed through on additional bass and guitar duties, but the core duo has ensured continuity throughout.
The simple lo-fi folk of River of Water from 1985 sits comfortably alongside the slow-burning fizz of Sugarcube from 1997, neither appearing dated. And despite the diversity of material, never once does any track seem at all un-Yo La Tengo. Most fans of the band will have each of the 26 songs on the two CDs of Prisoners of Love, but for such people there is a limited-edition third CD, A Smattering of Outtakes and Rarities 1986-2002, that should provide a sufficient interest. The main collection is, however, that near perfect introduction for anyone who has missed out on this excellent band's output or ever been too daunted by the history to make a stab. For an idea of the sound you can't do better than try and imagine the cross over between the band's heroes the Velvet Underground, who they once played in a film, and Sandy Denny, whose By The Time It Gets Dark is given the noisenik treatment as the last song.
The sleevenotes flesh out the deal with the story of a cancelled appearance at a nudist gathering and a commentary from long-term band photographer who travelled with them on many a tour. Basically, whatever price you pay for this it's a bargain. Anyone who doesn't own any Yo La Tengo and was thinking about picking this up definitely should.
26 May, 2005 - 23:00 — Peter Hayward