Music Reviews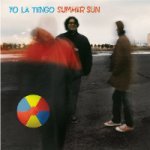 Yo La Tengo Summer Sun
(Matador)
Buy it from Insound

Yo La Tengo, which the band politely inform us is Spanish for 'extra mayo please', have been around for years, releasing what seems like hundreds of undergroundish, Mingus and Gilberto Gil inspired records. Consisting of husband and wife duo Ira Kaplan (guitars/vocals) and Georgia Hubley (drums/vocals), bassist James McNew, and assorted other musicians who've come and gone over the years (including various Lambchop and Calexico collaborators) they've been described as 'drone rock', reportedly fallen out with Pantera (surely a lie?) and been called a jazz trio. Their latest album, Summer Sun, is a deceptively titled brooding work that's a perfect antidote to the manipulative summer anthems being prepared in the dark hearts of A&R men and radio pluggers.
At first YLT seem to peddle a very standard version of post-rock miserabilism, but Summer Sun is a more complex and layered album than first impressions suggest. While the critically vaunted opener - and ludicrously inappropriately titled - Beach Party Tonight clearly sounds like Godspeed You! Black Emperor trying not to piss off the neighbours, second track Little Eyes is more up-tempo, like a kind of post-rock Monkees. There's also a surprising country/alt.country feel to many of the tracks. Nothing But You and Me mixes dark, Mingus inspired pianos with a smoky country vocal, before turning into the rogue child of Tortoise and Johnny Cash. Similarly, Season of the Shark has suitably perverse vocals, and matches a sweet country homecoming voice to what sounds like a Casio VL Tone. Nevertheless it's a heart-warming and efficient tune. Meanwhile Today Is the Day goes Hawaiian, and is deeply sad yet strangely hopeful. I think it's how The Polyphonic Spree would sound without all those French horns. And vocalists. Oh, and beards.
Summer Sun also has a strong experimental streak that's pleasantly challenging. Tiny Birds is quiet, lilting and quirky, and alongside How to Make A Baby Elephant Float, something I'm sure we've all wondered at some stage in our lives, drifts into Japanese woodwind and jazz syncopation. Then there's the alarmingly danceable Georgia Vs. Yo La Tengo (Is it a remix? Who on earth by?), which boasts a deep, funky piano, congas and the sound of a 1970s TV theme tune. It's a weird departure, but a brilliant showcase for the imaginations at work here.
At more than an hour, Summer Sun is probably too long, and perhaps starts to drag a bit later on. It's a double vinyl, so it's probably best to get the LP, and then you can do stuff in between. Later songs like Don't Have To Be So Sad, which is quite a lot like Joy Division, only quieter and with some tinkling pianos and backwards hi-hat that Martin Hannett would never have allowed, get a bit lost. But luckily there's enough focused experimentation to keep things going, as we drift into post-rock on the beach (Winter A-Go-Go), or the kind of orchestral free jazz that works so well it could really teach Damon Albarn a thing or two (Let's Be Still). In between there's Moonrock, the sexiest song on the album, and possibly the most interesting musically, throwing a surprising slab of funk to the rhythm section. Then we finish with Take Care, a short, haunting track with sliding guitars that tug the heartstrings.
Summer Sun is possibly the most inappropriately titled album so far this year, but it's a great work nevertheless. The only danger is that you might not notice it in the background. It's an album that's worth your attention though, emotional and experimental in equal parts, and one that continues Yo La Tengo's marginal yet admirable position in the avant-garde scene.
7 April, 2003 - 23:00 — Ben Bollig