Music Reviews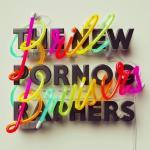 The New Pornographers Brill Bruisers
(Matador)

It dawns on me much too late that it might not be the best idea for me to be reviewing a third New Pornographers record for the same music mag. I procrastinate, the way I always do with my reviews, and by the time I finally sat down with Brill Bruisers it kind of sank in; this isn't 2004. It's 2014. This power-pop powerhouse remains one of my absolute favorite (super)groups. I'm biased, but maybe the flipside is that I really, really know what I'm talking about. Let's go with that one.
The New Pornographers are comfort food for me. Whatever opinions I may have of each individual album, they're all essentially just variations on a theme. With the ever-present exceptions of their first two albums, which would be nearly impossible to surpass in quality and sheer joy, there is no particular distinction between and among the rest. Twin Cinema tried to recreate the magic of the first two albums. Challengers was slower, more thoughtful. Together was an experiment in even broader collaboration, and while it fell a bit short, and the relative disjointed nature of the record is slightly ironic, it was still solid. But this newest release, the first in four years, is something refreshing. Sure, that old formula I wrote about nine years ago still holds true; it's not a massive departure. Still, after you shake off the initial conceptual strangeness, Brill Bruisers builds up to a breathtaking whole.
Formula notwithstanding, this is the first of The New Pornographers' records that I felt was truly a concept album, both musically and thematically. When I read A.C. Newman's press release, the one where he dubs the new album as a "celebration record," I laughed at how on the nose he was. "We wanted Xanadu and we wanted Sigue Sigue Sputnik," he went on, and the album is an absolute triumph in this regard. Just as Neko Case's latest was an emotional outpouring after utter life devastation, just as Funeral -- Arcade Fire's first and by far their best -- came as a glorious revelation of sound on the heels of so much death and despair, so too does Brill Bruisers fill that same emotional void. With desperation, with recovery, comes astonishing creative output.
The title track, the first track, and the first single all rolled into one, reminded me of Saturday Looks Good to Me, a band I haven't thought of in years, if only because of the synth, something reminiscent of a mellotron, that gave the piece a slightly distant, underwater feel. But this underlying sound, along with their famously tight harmonies, pervades the rest of the album, giving it cohesion while washing out a bit of their signature sonic perfectionism. This is a good thing; muddying the crisp edges of each anthem provides a more relatable experience, a more believable joy, because we tend sometimes to trip over our feet in excitement. In fact, many of the tracks, generally the more memorable anthems, give some askance glance to another time. Born With a Sound comes to mind: the male/female back-and-forth vocals are adorably mid-century, the electric rhythm guitars are pure 80's rock (generic in a good way, think mid-80's Michael Jackson backing guitars), while the percussion is complete new wave, Molly Ringwald dancing in detention. The throwbacks mixed with mildly futuristic embellishments are absolutely charming.
The album pulls emotion from the listener ferociously. War on the East Coast, one of Dan Bejar's few contributions, starts in with (totally inadvertent, I imagine) David Bowie mimicry, right down to Bejar's slightly nasal twang and the glam rock energy of the chorus. Backstairs is the old film trope of the summer dress, the empty field, the girl smiling up at the sky with her arms outstretched as the camera spins around her, faster and faster into a fall or a fade-out. It dances right on the edge of cheesy with a nod and a wink, never tripping over the line. "There is another West, much wilder/You feel it under us/And yet another West/A new one, when you arrive," the group harmonizes, full of hope, full of promise and a sincerity that is so lacking in our modern irony-laden musical catalog.
The only track that hasn't grown on me is Another Drug Deal of the Heart, if only for its excessive repetition, something that this band is known for. It's a perfectly fine number, but at only a minute and a half of almost nothing of consequence, it seems to be a space-filler in an otherwise overwhelmingly life-embracing album. Take it out and we're starting to approach perfection. Even with slightly more expected, true-to-form numbers like Dancehall Domine, which would probably feel more at home on Electric Version, and Spidyr, which, with its mellow tones and harmonica, feels a bit misplaced in an otherwise exultant album, the work as a whole is a beautifully orchestrated (and often orchestral) sensation.
The album ends with the hugely collaborative You Tell Me Where, a clash of styles and vocals that come together in a confusing cohesion, but ultimately in ecstatic redolence that refrains in (what should be) an endless loop of the belted chorus: "You tell me where/To be I'll be there" (no really, this is the kind of closing track that belongs on actual vinyl, on the concentric run-out groove, the kind that Sgt. Pepper threw into existence on a flabbergasted public). There's no better way to close out this masterpiece, but I'll close my criticism with Neko Case in top form, on Marching Orders, square in the middle of the album. "They say we can't make this stuff up/But what else could we make?" Exactly, exactly, exactly.
11 September, 2014 - 04:29 — Gabbie Nirenburg