Music Reviews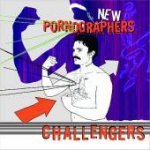 The New Pornographers Challengers
(Matador)
Buy it from Insound

Now I'm going to tell you something you're probably not going to read anywhere else: the New Pornographers are overrated. Don't get me wrong, they're good, sometimes great. But partly because of their individual reputations, which are also mildly exaggerated, they have been burdened with the "supergroup" label and hailed as the second coming of the Beatles (not even close) or Big Star (I'll buy that). Their lyrics have depth, their arrangements are picture perfect, their melodies are singable, and at their best (The Slow Descent into Alcoholism, The Laws Have Changed, etc.) they can generate a bouyant energy that fulfills the potential of the material. And Neko Case sings backup. So they have a lot going for them, and they're one of the best indie bands going. But sometime, let's say 50% of the time, their expertise and enthusiasm are brought to bear on merely decent or average songs. Outright clunkers are rare, but so are the blood chilling classics, though they have a few and that's saying something.
The new one represents an interesting development. The two or three ecstatic highs that always peppered their albums are gone. The best they come up with in this vein is Mutiny, I Promise You, and it doesn't really stand with their career highlights. Similarly, All the Things that Go To Make Heaven and Earth sounds aimless as it chugs ever forward. On the rest of the album there is a newfound attitude. Maturity probably isn't the best word to describe it, since from day one these were accomplished, focused musicians trying to reproduce a music they loved and missed. But it may be fair to say that they sound less eager to please, and a little more relaxed in their identity as a group. Take My Right Versus Yours, the opener. It develops gradually, with a typically irresistible hook, and doesn't sound like it's anxious to get to the end. The same goes for All the Old Showstoppers, which is confident in its quality and execution. One of my favorites is Myriad Harbor, a Dan Bejar tune which is catchier than bird flu, and really makes the case for having more than one songwriter in a band.
Their signature sound is firmly in place, with the full band tightly knit and fully employed on almost every song. And thanks to the presence of Case, the harmonies are constant source of pleasure. But with energy level turned down a notch, this may not be the best starting point for someone new to the band. Old fans will probably appreciate the familiar elements and be willing to stick with the growers. Me, I'm itching for a little bit more of a stance, an attitude, dare I say it, a vision, from these undoubtedly talented musicians; something that elevates them above merely the best side project in indie rock. Either that or give us a whole album of transcendent pop like the titular tune, Mass Romantic, and then we induct them into the pantheon of the greats. I think they have it in them, and Challengers is yet another near miss.
30 August, 2007 - 16:04 — Alan Shulman