Music Reviews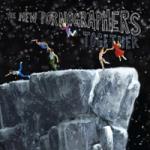 The New Pornographers Together
(Matador)
Buy it from Insound

There isn't a whole lot to say about The New Pornographers' new album, Together, that hasn't already been said. To recap: this is an ambitious album simply oozing with collaborators (The Dap Kings, Zach Condon of Beirut, Will Scheff of Okkervil River, Annie Clark of St. Vincent). Rest assured that the "too many cooks" cliché has been thrown around freely, and there hasn't been consensus as of yet. The sound is a departure that Challengers should have prepared us for. Ready for more experimentation, kids?
The New Pornographers are a grandiose band with a grandiose sound. This, at least, has been a mainstay. Before Challengers, they were a solid power pop outfit, a catchy hit-producing machine of epic proportions. When the tides turned slower, the result wasn't bad, but it was a bit disappointing. That is, on its own, Challengers is a pretty great album, but compared to the rest of the Pornographic oeuvre it fails to impress. Together suffers the same fate.
My problem isn't necessarily that there are too many musical cameos in what is already a super-group of sorts. Going big is never a problem with The New Pornographers; it's expected and welcome. The problem is that the cameos, the string additions, the ethereal lilting fade-outs…they're placed so haphazardly as to make each song sound overwrought. The beauty of, say, Mass Romantic, was that no matter how heavily instrumented and produced a song was, no individual instrument felt out of place. On Together, the track that comes closest to achieving this is Your Hands (Together). Certainly this is the most reminiscent of classic New Pornographers power pop. It's no accident, I think, that this is also the track that makes the band sound most "together."
The rest of the album's standouts are near misses. Moves is a powerful opener, but the heavy strings are jarring and the repetition – a usual technique for this group – gets old fast. Crash Years features Neko Case's gorgeous vocals and cheerful chorus, but the slapdash whistling and cello undercurrent distract from an otherwise excellent track. My Shepherd is a slower number that showcases Case's voice, and until the wholly unnecessary horns sneak in at the final refrain, it seems like the only number that avoids superfluous instrumentation. The chorus of Sweet Talk, Sweet Talk has a familiar excitement, but the rest of the song feels like it was designed to build up to that chorus and do nothing more. Both Silver Jenny Dollar and If You Can't See My Mirrors are pleasant enough; I've always seen Dan Bejar's contributions to be welcome (if a little overly twee) departures from the rest of the albums' fist-pumpers. The trick here is that there are no clear exciting tracks, and so Bejar's numbers add to the overall messy feeling. Valkyrie in the Roller Disco cements that feeling firmly. Not only is it a lo-fi slap in the face amidst a sea of overproduction, but it marks the beginning of the end. The album can't seem to recover from this track, and the remaining three are simply unremarkable (We End Up Together, the last track, is a bit of an exception, as it attempts to be epically feel-good, but it's ultimately underwhelming as a closer).
For what it's worth, this isn't an album I started enjoying until at least the fifth listen. In fact, from the first spin, I thought the songs ran together into little more than a vaguely enjoyable orchestral mush. Obviously I spoke too soon; this is a perfectly catchy, hook-filled record with some interesting new twists. We should always be open to our favorite bands expanding and flourishing and experimenting and, ideally, growing (maybe a bit too literally, in this case). But the end product suffers from orchestral overload and too-drawn-out tracks that are merely peppered with the incredibly uplifting hooks that positively saturated previous albums. Together disappoints in the same way that Challengers did. On its own, it's a great record. Tacked onto the end of a sprawling, massively exciting discography, it just doesn't deliver.
11 May, 2010 - 19:58 — Gabbie Nirenburg