Music Reviews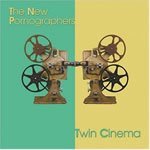 The New Pornographers Twin Cinema
(Matador)
Buy it from Insound

It's not that I think that all music critics should be in constant agreement with each other, but something strikes me as a bit off when almost every new release from established indie rock artists gets slapped with the "Best Album to Date!" label, and I just brush it away with a 7 out of 10 and call it a day. Twin Cinema, The New Pornographer's freshest offering, seems to fit the mold (and maybe spill over the edges a bit, but I'll get to that later). So innovative, so cohesive, so developed, they say! A perfect blend of hyperactivity and melancholy! The Ramones meet The Beach Boys and Wings at a party and make out with The Shins on the couch! Okay, to me it just sounds like The New Pornographers. I must be missing something that's staring me right in the face, but I'll give you my own breakdown, sans sycophantic jargon. I hope.
With The New Pornographers, I think we all tend to gravitate first to the catchiest numbers that we can belt out on road trip singalongs. Twin Cinema is replete with them, naturally. The standouts are the title track, which has a killer guitar solo and effortlessly balances energetic chorusing with crisp melodic interludes, as well us Use It, a song that shows these artists' incredible talent for building up excitement in their listeners. A potent piano-based backdrop illuminates a story of the big screen. "Heads down/Thumbs up/Two sips from the cup of human kindness and I'm shit-faced/Just laid to waste;" lines like these crescendo to that patented musical pause and screamable lead-in combo that I hold so dear. At shows, this will be the song everybody raises their fists in the air for.
The slower numbers, particularly when carried by Miss Case, are perhaps stronger than on previous albums. In particular, Bones of an Idol is a sweeping near-masterpiece. "We dig through the bones of an idol when the will is gone/'Cause something keeps turning us on," Neko sings, introducing the lovely, rhythmic piano chords and lilting background vocals that make this song ethereal without trying too hard at it. Even from the first run-through, it carries a comforting air of familiarity. Some songs, like The Jessica Numbers, are equally satisfying. Others are not so successful: the broken-record repetition on Falling Through Your Clothes, for instance, leaves something to be desired. In short, it's no Mass Romantic, but it will do quite nicely.
I love this band. I had a fit when I first heard The Slow Descent Into Alcoholism. I have a copy of that Zumpano album and I listen to A.C. Newman and Neko Case and I think they are the cat's pajamas, thankyouverymuch. The New Pornographers have always had a formula for songwriting, as far as I can tell, and it's a fucking fantastic one. Verse, verse, unabashedly singable chorus, a few do-be-dos, a drum or synth break, finished off by repetition of a somewhat nonsense phrase until fade-out. It's worked for them for five years at least, and it never gets old. So why should they change? And why should we pretend that this new album is such an incredibly executed stretch from the norm? It isn't. It doesn't have to be. The New Pornographers have built their power pop fortress. There's no need to start tearing it down.
27 August, 2005 - 23:00 — Gabbie Nirenburg