Music Features
Top 50 Albums of 2009 (Part One)
By No Ripcord Staff
Is it me or has 2009 been passed over in the rush to celebrate the decade? It might not have been a vintage year, but as the following list comfortably illustrates, there was still plenty of great music to get excited about.
For those of you wondering where our "Best of Decade" list is, don't worry - we'll be addressing this in the new year when a sufficient amount of the dust has settled. You can expect to see some retrospective features, however, in the next few weeks.
Click here to skip directly to the top 25, if you must...
. . .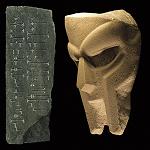 50. DOOM
"Born Like This"
(Lex)
Buy it from Insound
. . .
Click here to read part two of this feature (albums #25 to #1)
20 December, 2009 - 21:46 — No Ripcord Staff